Hi guys.  It's good to be back, so much has changed, so many graduations, new jobs, new cities, it's been a lively year and half since we all were last on here. One thing that hasn't changed, however, is the hate that fills my every being.
I think it's fair to say that my (small) reputation among the writers was as "The Crazy One" but it also carried with it a great deal of anger and bitterness towards the whole world. Unwarranted mind you, but it was still a good, hearty hatred that fueled my muse. It only got worse over time. I remember working on a potential article, writing for over a page and a half before realizing I hadn't written a single joke, I'd just bitched and ranted about how College Students suck.
And this mindset has only increased now that I've graduated, been forced to move back home, and have spent the majority of this time unemployed.
So it's time get things back to the way they were and for my first article I decided to do a small look-back at all the things we missed. Between the time of LTAS going silent and its return, there's been a lot of stuff that's occurred, mostly terrible stuff. In fact I feel that as a society we've kind of tried to forget 2011 as quickly as we could. I even had to Wikipedia 2011 for major events because I honestly couldn't remember anything that happened that wasn't related to TV.
So here we go! Skull Fuck'd* presents: Stuff Let's Talk About Stuff Didn't Get to Talk About.
*For those who don't know, Skull Fuck'd was my regular segment on the site before it closed. It was a parody of Mike's sports segment called ASS'd although I never actually came up with what Skull Fuck'd stood for, and it had no real rhyme or reason to the content. Given that I only used it twice out 7 terrible blog posts, I shouldn't feel too attached to this but fuck it, everybody's gotta have a thing.
The Walking Dead premiere
Now already I'm getting this article off to a bad start because this was technically in 2010, but since the last post was in July of 2010 this can still count. I include this because if there was ever gonna be something all of LTAS could come together and gush about, I feel The Walking Dead is one of them. When the news about this show started popping up I was almost beside myself with glee. Here was a genuine zombie TV show, based on the critically acclaimed comic The Walking Dead and produced by cable drama powerhouse AMC and Stephen King Prison-Movie director Frank Darabont. I had never been more excited for a TV show premiere since they said The Power Rangers were going into space.
And then it came, and then it got really bad, and then I kept watching, and then it got really stupid, and then I stopped watching, and then I started watching it again and then it kept being stupid and y'know let's move on.
The Japanese Tsunami
Now rules of comedy dictate that having been almost a year since it's occurrence that it is now okay to make jokes about the Japanese Tsunami. For decency's sake (and the fact that I'm way too lazy to think of a any jokes) I will say that it was an unfortunate loss of no doubt scores of Violent Tentacle Rape video games. And speaking of video games…
Skyrim
Skyrim arrived and it was awesome, I've probably wasted a good portion of two months on that thing. Bad timing though, since it came out on those few months I actually had a job. Luckily my performance at worked suffered because I was focused too much on Skyrim and so my boss cut my hours, which in turn gave me more time to play Skyrim. Basically a win-win no matter how you look at it.
Also if you're one of those assholes that wants to be contrarian about it and say it sucked you can eat a dick. Here's a mod video.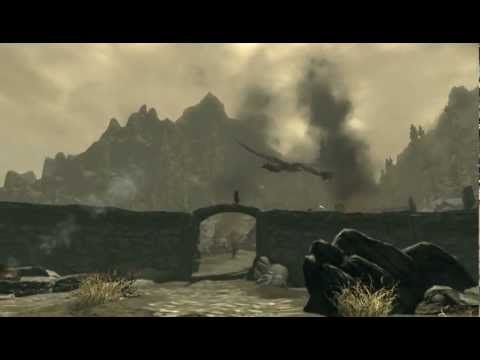 I should clarify that these things are just sort of being written about with no real thought for them being in order. I should've clarified that earlier but we're too far in to care now.
The Continued Decline of Walking Dead
I need to come back to this because it's still jarring as all hell what they did. Did you guys remember watching that first episode? Excellent, fucking excellent. Well produced, well paced, well acted, it completely set the stage for an incredible series. Then it just pittered, characters started acting weird or just stupidly, and very little happened until the very end where they would throw in a cheap hook to keep you watching. I was willing to even forgive the glaring departures from the established comic storyline but by the end of the first season I was just done. It didn't help that during the break, AMC had a dispute where it cut the show's budget and fired Frank Darabont aka a third of the reason I was even interested in this dumb thing.
I still stuck around for the second season.
The Royal Wedding
So two very rich white people got married on the British government's dime and apparently, there were some people that were totally ok with this. Now as an American my view of other cultures veers between either complete apathy or total antipathy, so I'm still baffled that a modern society can even justify to themselves why they would keep their Monarchy in any form. Maybe they're just holding on as a back-up just in case this whole democracy thing doesn't work out. From what I've seen in Greece they might be right.
The only other thing I can say about this was that for a while I got Kate Middleton  confused for jailbait swimsuit model Kate Upton and so I got a perverse sense of glee doing an image search of what I thought was the a member of English royalty slutting it up like a pro.
On a sidenote: Kate Upton is seriously 19 years old. Someone should be in jail.
The Occupy Movement
Ah, here we go. People my age, tired of sweeping unemployment and a poor economy took to the streets and demanded…..jesus what do these guys want? I always feel that I need to defend these guys because they're a lot like me but even now I'm still amiss as to what they're trying to get. Depending on who you ask they either want to destroy America or take all the rich people's money and while those are both perfectly admirable goals, I feel at the end of the day the Occupy movement is pretty much just mad. Mad at all the bullshit that's occurring, mad that this country has seemingly forgotten them, mad that nobody is doing anything to fix anything. I can get behind just letting people know you're mad, it's why I do this bullshit.
On another note: Fucking 19!
SOPA
Now this was an unfortunate time for LTAS to not have been around because if there was ever a rallying cry of the internet, it'd be this. Legislation giving corporations the ability to shut down any site for copyright violations the internet cried back NOOOOOOO. For once it seemed like the good guys had one out, that the government wasn't going to completely screw us over and that internet petitioning might've actually worked (it didn't). Of course, there are still ACTA in Europe and in Ireland they passed their own variation of SOPA. This certainly isn't the last we heard about this, but we will be here, ever vigilant over the freedom of the internet.  Yes, LTAS is that important in the grand scheme of things.
The Walking Dead is seriously AIDS on television*
Robert Kirkman, they are basterdizing your work with each dumb episode and you seem content to just stay silent and masturbate into your money pile. I don't even want to get into how it's one of the most watched shows on cable (actually that's not a mystery: its' fucking zombies). But you know what? I was watched last Sunday's episode and I'm probably gonna watch it next week and the week after that, despite how much I think it sucks.
That might seem sad, and it is, but it's ok because I have LTAS back and it's gonna be with me all throughout 2012, through The Walking Dead, this terrible election, the dwindling numbers of the Occupy Movement, Skyrim (still), and anything else, good or horrible.
*I might be exaggerating.
Welcome back to Let's Talk About Stuff. My name's Luke and I'm always drunk.